Zion (1998) by Dan Welcher
Dan Welcher has won numerous awards and prizes from institutions such as the American Academy of Arts and Letters (Arts and Letters Award in Music, 2012), Guggenheim Foundation (a Fellowship in 1997), National Endowment for the Arts, The Reader's Digest/Lila Wallace Foundation, the Rockefeller Foundation, the MacDowell Colony, Yaddo, The Bellagio Center in Bellagio, Italy, the Ligurian Study Center in Bogliasco, Italy, the American Music Center, and ASCAP. His orchestral music has been performed by more than fifty orchestras, including the Chicago Symphony, the St. Louis Symphony, and the Atlanta Symphony. He lives in Bastrop, Texas, and travels widely to conduct and to teach.
The composer writes: Zion is the third and final installment of a series of works for wind ensemble inspired by national parks in the western United States, collectively called Three Places in the West. As in the other two works (The Yellowstone Fires and Arches), it is my intention to convey more an impression of the feelings I've had in Zion National Park in Utah than an attempt at a pictorial description. Zion is a place with unrivaled natural grandeur, being a sort of huge box canyon in which the traveller is constantly overwhelmed by towering rock walls on every side – but it is also a place with a human history, having been inhabited by several tribes of Native Americans before the arrival of the Mormon settlers in the mid-nineteenth century. By the time the Mormons reached Utah, they had been driven all the way from New York State through Ohio and through their tragic losses in Missouri. The saw Utah in general as "a place nobody wanted" but were nonetheless determined to keep it to themselves. Although Zion Canyon was never a "Mormon Stronghold," the people who reached it and claimed it (and gave it its present name) had been through extreme trials.
It is the religious fervor of these persecuted people that I was able to draw upon in creating Zion as a piece of music. There are two quoted hymns in the work: Zion's Walls (which Aaron Copland adapted to his own purposes in both Old American Songs and The Tender Land) and Zion's Security, which I found in the same volume where Copland found Zion's Walls – that inexhaustible storehouse of nineteenth century hymnody called The Sacred Harp. Zion was commissioned in 1994 by the wind ensembles of the University of Texas at Arlington, the University of Texas at Austin, and the University of Oklahoma. It is dedicated to the memory of Aaron Copland.

Elegy for A Young American (1964) by Ronald LoPresti
The Elegy For a Young American was written in 1964 and is dedicated to the memory of President John F. Kennedy. The many stages of mourning can be felt as the work unfolds. A quiet adagio sets a tone of respect and solemnity in the beginning. Feelings of shock and denial are reflected by the dynamics and octave jumps in the melody. Anger and remorse express themselves, but they are replaced with a resolution of the loss and an allegro celebration of the contributions of this great American. The maestoso closing reminds us again of our loss.
Ronald Lo Presti was born October 28, 1933 in Williamstown, Massachusetts. Coincidentally, this was the same town in the Berkshire Mountains where Cole Porter bought his home in 1940 after returning from Paris. Lo Presti received his Bachelor of Music (1955) and Master of Music (1956) from the Eastman School of Music, where he studied under Louis Meninni and Bernard Rogers. After graduation, he worked as a music teacher and clarinet instructor at several public schools. From 1959 to 1960, he was an instructor in music theory at Texas Technological College, Lubbock. In another two-year period, he served as Composer-in-Residence with the Winfield, Kansas public schools. An appointment as assistant professor of theory and composition at Indiana University of Pennsylvania followed. From 1964 to his death on October 25, 1985, Lo Presti was a professor of music and theory at Arizona State University, Tempe.

Dusk (2004) by Steven Bryant
This simple, chorale-like work captures the reflective calm of dusk, paradoxically illuminated by the fiery hues of sunset. The composer notes the dual nature of this experience, as if witnessing an event of epic proportions occurring silently in slow motion. It is intended to be a short, passionate evocation of this moment of dramatic stillness.
Steven Bryant was born in Little Rock, Arkansas. He studied composition at Juilliard School of Music, the University of North Texas and Ouachita University. He is an active composer and conductor with a varied catalog, including numerous works for wind ensemble, orchestra, electronic and electro-acoustic creations, music for chamber ensembles, and music for the web.

Nitro (2006) by Frank Ticheli
Nitro, an energy-charged three-minute fanfare for band, was commissioned by the Northshore Concert Band, Mallory Thompson, music director, in celebration of their 50th anniversary season, and received its premiere performance by them on April 9th, 2006.
Nitrogen is the most abundant component of the Earth's atmosphere (78 per cent by volume), and is present in the tissues of every living thing. It is the fifth most abundant element in the universe, created by the fusion deep within stars; it has recently been detected in interstellar space. The sheer prevalence of nitrogen in all of nature, and the infinite range of compounds it is part of – life-giving, energizing, healing, cleansing, explosive – all appealed to me, and served as the inspiration for my music.
The main musical idea for Nitro is a powerful, angular theme, first announced by the trombones and horns, and then imitated in the trumpets. Trumpet fanfare calls and a busy and relentless chattering in the woodwinds enhance the bright, festive mood. The middle section is based on a woodwind theme that is partly fanfare-like, partly dance-like. This contrasting theme is built from intervals occurring in the natural overtone series (octave and twelfth), giving it an expansive, open-air quality. The main theme reappears, growing in power and density all the while, building to a thunderous conclusion.
– Program note by the composer.

Pastime: A Salute to Baseball (1999) by Jack Stamp
Jack Stamp drew inspiration for this work during a 1998 visit to Candlestick Park for a Giants baseball game. His memories took him back to his first World Series in 1962 between the Giants and the Yankees; he was only eight years old at the time. This salute to the 1962 Giants and baseball in general is loosely woven around two motives from the anthem of the seventh inning stretch "Take Me Out to the Ball Game." Ever-changing meters, syncopation, and compound rhythms are skillfully crafted to pay homage to the heros of the game. Measure numbers match player uniform or record numbers. Don Larsen, Willy Mays, Barry Bonds, Juan Marichal, Orlando Cepeda, and Roger Maris are a few to be so honored. A slapstick, woodblock, and rimshots imitate the crack of Willie McCovey's bat. The flutes and bells play the notes "B-A-B-E" to salute the Bambino. Strains of "Meet Me in St. Louis" pay a tribute to Mark McGwire. Polytonality abounds as the work continues with two fugues based on themes from "Take Me Out to the Ball Game." The work was commissioned by the Santa Clara County (California) Band Directors Association and was premiered on January 24, 1999 with the composer conducting. It is dedicated to Frank Battisti, long time conductor of the New England Conservatory Wind Ensemble, who retired that same year.

Rose Variations (1956) by Robert Russell Bennett
Although Robert Russell Bennett was perhaps best known for his expert orchestrations of musical comedies, he also wrote operas, symphonies, concerti, chamber music, etudes, sonatas, and works for concert band. Written originally for cornet solo and concert band accompaniment, Rose Variations is also widely performed with piano accompaniment when a concert band is not obtainable. It presents a variety of obstacles for players including extreme ranges, intervals, and tempos.
Rose Symbolism:
Carolina (wild) Rose, Symbolizes poetry and that love can be dangerous.
Dorothy Perkins (rambler) Rose, Symbolizes grace and elegance; pink is also used as a token of admiration and appreciation.
Frau Karl Druschki (white) Rose, Symbolizes worthiness, eternal love, innocence, secrecy, and silence.
Cinnamon Rose (with hummingbirds), Symbolizes the loveliness found without pretension.
American Beauty (red) Rose, Symbolizes love, respect, beauty, and romance.

Ringmasters March (2013) by John Mackey
In physics, a motion is a change; in geometry, a motion is a transformation. These four songs, written on the occasion of Richard Floyd's retirement from the University Interscholastic League, celebrate that moment of change and transformation by evoking many kinds of motion, of bodies and of the soul. Violet Crown Fanfarecaptures the movement of the heavens and the optimism of the wide-open West; Night on Fire suggests the wild dancing of a nomadic camp; Unquiet Spirits is a waltz full of longing and an otherworldly sweetness. The final movement, The Ringmaster's March, is a riotous Ivesian circus parade, a joyful noise in honor of a man who has always been at the center of the show.
Commissioned by a consortium of student music organizations at The University of Texas in recognition of Richard Floyd's tireless and passionate advocacy for music education in the state of Texas: Kappa Kappa Psi, Mu Phi Epsilon, Phi Mu Alpha Sinfonia, Sigma Alpha Iota, Tau Beta Sigma, and The University of Texas Student Music Educators Association. The work received its premiere on May 3, 2013, by the University of Texas Wind Symphony, conducted by Scott Hanna.
– Program Note by composer
2019 Guest Soloist/Conductor
Professor William Stowman
Messiah College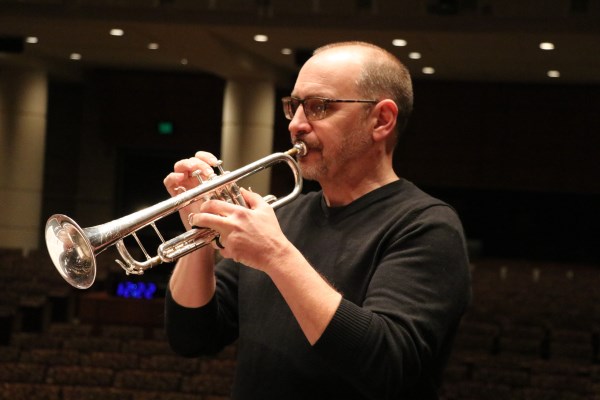 Dr. William Stowman is Professor of Trumpet and Co-Chair of the Department of Music at Messiah College in Mechanicsburg, Pennsylvania where he teaches trumpet, directs the trumpet ensemble and top jazz ensemble, and also teaches in the graduate program for conducting. He is the recipient of the Robert and Marilyn Smith Award for Excellence in Teaching at Messiah College, and has also earned the Pennsylvania Music Educators Association Citation of Excellence for teaching at the collegiate level.
Receiving his start in a small but excellent music program in western Pennsylvania, his musical journey has been comprised of successful public school teaching, graduate programs in performance in Kentucky, and a doctorate in trumpet performance from The University of North Texas. Twenty-three years in higher education have provided countless opportunities to serve as a guest conductor, clinician, and soloist. Conducting opportunities have ranged from elementary through high school festivals, college bands, and community bands as well. He also serves as the Conductor and Music Director of the Greater Harrisburg Concert Band, a community band made up of local professionals and amateurs in south central Pennsylvania.
As a trumpeter, Bill has two solo CD's to his credit: A Matter of Seconds (Mark Records) and A Timeless Place (Klavier). Fanfare Magazine wrote ". . .crystalline clarity of tone, and impeccable legato" to describe his playing. A third solo CD titled Parable will be recorded in February of 2019 and will feature several new commissioned works for trumpet. He is a member of Tromba Mundi, a professional trumpet ensemble and BrassCross, a unique collaborative brass choir that is comprised of students and faculty at Messiah College. He has also performed and recorded with The North Texas Wind Symphony under the direction of Eugene Migliaro Corporon, The Keystone Wind Ensemble under the direction of Jack Stamp, and The Atlantic Brass Band. Bill is an S.E. Shires Trumpet Artist and plays mouthpieces designed by Pickett Brass.
Recently, Bill has turned his attention to writing a book on artistry in teaching. He has been a guest speaker at numerous teacher in-service events, the College Music Society, and for the Yamaha Corporation in California.
Dr. Stowman has served on the Boards of Directors for the International Trumpet Guild, The National Trumpet Competition, and the Central Pennsylvania Friends of Jazz. He and his wife Lynn live in Mechanicsburg, Pennsylvania where they have raised their four children.