Doylestown Symphonic Winds meets and performs each summer.
Here you will find posters and program information from our past performances
Click on a thumbnail for more information about that performance.
2018

2017

2016

2015

2014

---
2018

Folk Dances
Dmitri Shostakovich (1906-1975)
Dmitri Shostakovich was one of the great composers of the 20th century, and certainly the greatest to emerge from the Soviet Union. His relationship with the Soviet government, especially Soviet premier Joseph Stalin, defined nearly every aspect of his life. Folk Dances is a standard repertoire piece for wind bands, but Shostakovich may never have heard it played by a band. It came to the United States in a 1979 edition by H. Robert Reynolds, which the DSW will perform this evening. The previous version was for Russian bands, arranged by Mark Vakhutinskii in 1970. Shostakovich's original was the third movement of his 1942 suite of incidental music for a musical revue called The Motherland, also known as My Native Leningrad or Otchizna, his opus 63. The suite, written during the bleakest days of World War II, was often somber, ending with a hymn to Leningrad for orchestra and choir. The source material of Folk Dances was the "Dance of Youth," a purely instrumental movement intended, it seems, to lighten the suite. It includes several Russian folk melodies strung together one after the other as it accelerates to a big finish.
October (2000)
Eric Whitacre (1970 – )
Eric Whitacre composed October with the intention of evoking a peaceful musical representation of the month he has called his favorite, and the feelings this month evokes for him. Whitacre writes in a program note: "Something about the crisp autumn air and the subtle changes in light always make me a little sentimental, and as I started to sketch I felt the same quiet beauty in the writing. The simple, pastoral melodies and the subsequent harmonies are inspired by the great English Romantics, as I felt this style was also perfectly suited to capture the natural and pastoral soul of the season. I'm happy with the end result, especially because I feel there just isn't enough lush, beautiful music written for winds."
October was premiered on May 14, 2000, by the Nebraska Wind Consortium, a band made up of students from thirty different high school bands from Nebraska. This consortium was organized by Brian Anderson, to whom Whitacre dedicated the work in recognition of Anderson's work to bring the students together.
Suite of Old American Dances (1949)
Robert Russell Bennett (1894-1981)
The extremely popular, Suite of Old American Dances is an original work for band. In this suite Robert Russell Bennett seeks to set the mood of a Saturday night barn dance — with all the gaiety which the festivity demands. Bennett does this by recalling several of the characteristic dances remembered from his own childhood. Bennett has described the music as "native American dance forms… treated in a 'riot' of instrumentation colors." The dances you will hear tonight include, Cakewalk, Schottische, and Rag.
Kokopelli's Dance (2005)
Nathan Tanouye (1974 – )
Kokopelli's Dance is the first classical composition from a predominantly jazz composer, Nathan Tanouye. The piece begins with Kokopelli's theme played by a solo flute, the instrument that Kokopelli himself played. The theme is then passed through the ensemble in a fugue-like fashion. This style of writing emits the feelings of happiness and joy for which Kokopelli was the ancient Native American symbol. As different sections of the piece progress, the atmosphere of Kokopelli's theme changes, just as the atmosphere of a dance changes with the entrance of each new person. A light-hearted, spirited composition, Kokopelli's Dance is a delightful illustration of an old Native American legend
Bayou Breakdown (2003)
Brant Karrick (1960 – )
In Bayou Breakdown,Karrick hoped to create a piece that would provide musical and technical challenges for performers yet could be immediately enjoyed by the listener, musician and non-musician alike. The piece was written for his students in the University of Toledo Wind Ensemble and was dedicated to, Frank Wickes, one of his mentors. Bayou Breakdown began as an attempt to write a fugue in the style of J. S. Bach. The main melody is introduced in a four-part fugue scored for woodwinds. A brief transition introduces a folk song-like lyrical theme based on pentatonic scale. A brief transition takes the piece to its most dissonant section, evoking a poorly played waltz. The main melody attempts to reappear but is swept away by a progression of descending chromatic chords. After a complete stop, the initial fugue returns featuring solos by the clarinet, bassoon, alto saxophone, oboe, trumpet and tuba. After a few short trio statements of the main tune, the piece ends with a polyphonic flurry for the full band. Brant Karrick is currently director of bands at Northern Kentucky University. His prior teaching experience includes nine years at the University of Toledo and seven years of public school teaching in Kentucky.
Lincolnshire Posy (1937)
Percy Grainger (1882 – 1961)
Lincolnshire Posy, a piece by Percy Grainger, was composed in 1937 for the American Bandmasters Association. Considered Grainger's masterpiece, the 16-minute-long work is composed of six movements, each adapted from folk songs that Grainger had collected on a 1905–1906 trip to Lincolnshire, England. The work debuted with three of the movements on March 7, 1937 by the Milwaukee Symphonic Band. Unlike other composers who attempted to alter and modernize folk music for band, Grainger wished to maintain the exact sense of stylizing that he experienced from the singers. Grainger wrote: "Each number is intended to be a kind of musical portrait of the singer who sang its underlying melody… a musical portrait of the singer's personality no less than of his habits of song, his regular or irregular wonts of rhythm, his preference for gaunt or ornately arabesque delivery, his contrasts of legato and staccato, his tendency towards breadth or delicacy of tone."
Dance of the Jesters, from the Snow Maiden (1873/1997)
Peter Ilyich Tchaikovsky (1840 – 1893)
Peter Ilyich Tchaikovsky, who was thirty-three at the time, was commissioned to compose incidental music to the play, The Snow Maiden. The play premiered in 1873 with Tchaikovsky's score receiving more praise than the play itself. Dance of the Jesters, also known as Dance of the Buffoons, is one of the more commonly performed works from The Snow Maiden, often used as an encore in orchestral settings. In Ray Cramer's transcription for wind band, the Dance of the Jesters is a highly energetic work with intermittent brass fanfares and rapid, technical woodwind passages. The flurry, energetic drive and playful melodies associated with Tchaikovsky's ballet scores are all heard in this rare and invigorating music.
---
2017
Fandango
Frank Perkins (1908—1988)
Arranged by Floyd E. Werle (1929—2010)
El Salon Mexico
Aaron Copland (1900—1990)
Elixir
Michael Markowski (1986 – )

Danza de los Duendas
Nancy Galbraith (1951 – )
Danzon No. 2
Auturo Márquez (1950 – )
Symphonic Dances No. 3 "Fiesta"
Clifton Williams (1923 – 1976)

Fandango
Frank Perkins (1954)
The fandango is a song and dance form from Spain and Portugal that originated in the early 1700s. It became popular as an instrumental form for serious treatment by composers by the end of the 18th century. It is a triple meter dance that is accompanied by castanets and often features a descending harmonic progression. Frank Perkins (1908-1988) made his name as a composer while working for Warner Brothers in Los Angeles. His works crossed genres from songs and light works like his 1954 classic, Fandango to a wealth of television and film music. He was nominated for an Oscar for his work on 1962's film version of Gypsy, in which he served as conductor, arranger, and music supervisor.
El Salon Mexico
Aaron Copland (1936)
From the time of Copland's first visit to Mexico City in1932, when his friend Carlos Chávez took him to the colorful nightclub called "El Salón México," Copland wanted to compose a piece about the unusual dance hall. He said, "I was attracted by the spirit of the place and by the Mexican people. Using Mexican melodies seemed appropriate. My purpose was not merely to quote literally, but to heighten without in any way falsifying the natural simplicity of Mexican tunes."
He based this tone poem on four Mexican folk songs: "El palo verde," "La Jesusita," "El mosco," and "El malacate." The powerful refrain that appears in the piece three times stems from "El palo verde." Copland began the work in 1932 and completed it in 1936. The Mexico Symphony Orchestra gave the premiere performance of El Salon Mexico, under the direction of Carlos Chávez in 1937. The piece was premiered in the U.S. in 1938. Copland also adapted the work for the 1947 musical film Fiesta, directed by Richard Thorpe for MGM.
Elixir
Michael Markowski (2012)
It's a bold idea—the thought that a small part of us might, in some way, live forever—but it seems that the bold idea itself has had an inexhaustible life of its own. Across the span of history, folklore has given mankind a way to find meaning, be it through a quest for the Holy Grail, The Fountain of Youth, or even the legendary sword Excalibur. The mythology behind Elixir is a brother to these legends, probably most associated with Elixir Vitae, or as it's better known, the Elixir of Life. The Elixir is essentially a drink, a special potion with magical properties said to extend a person's life indefinitely, allowing him or her to become immortal, to be forever young. By drinking the potion, man is enabled to overcome his inherent limitation and achieve the greatness that he has always longed for.
Elixir is dedicated to Scott Coulson, a man who has passionately devoted his life to others through music. Above all, the piece is a musical "toast"—a "cheers" to a continued journey and to a long healthy life not only to Mr. Coulson but to his students too.
Danza de los Duendes
Nancy Galbraith (1992)
"Danza de los Duendes" was composed for Argentina's Orquesta Sinfónica de Tucumán, whose music director, Eduardo Alonso-Crespo, led the world premiere in 1992, a month apart from the Pittsburgh Symhony Orchestra's North American premiere with conductor Kirk Muspratt. The work's title—an afterthought suggested by the composer's student—refers to the malicious goblin-like creatures (los duendes) of South American folklore.
In 1996 Galbraith revised the work and re-scored it as a wind symphony. The new "Danza" became her most popular piece and is performed frequently by concert bands in North America, South America, Europe, and Asia.
Danzon No. 2
Arturo Marquez (1994)
Danzón No. 2 is an orchestral composition by Mexican composer Arturo Márquez. It is one of the most popular and most frequently performed orchestral Mexican contemporary classical music compositions. Written for full orchestra, the piece features solos for clarinet, oboe, piano, violin, trumpet, and piccolo. The piece has also gained an important spot in the modern concert band literature through Oliver Nickel's arrangement.
Danzón No. 2 was commissioned by the National Autonomous University of Mexico and was premiered in 1994 in Mexico City by the Orchestra Filarmonica de la UNAM under the direction of Francisco Savin. The rhythmic interest in the piece is maintained through the use of varying accents and tempi. This staple of the contemporary Mexican music literature expresses and reflects on the dance style named danzón, which has its origins in Cuba but is a very important part of the folklore of the Mexican state of Veracruz. The music was inspired by a visit to a ballroom in Veracruz.
Symphonic Dances No. 3 "Fiesta"
Clifton Williams (1963)
Clifton Williams' Fiesta is one of five Symphonic Dances, commissioned by the San Antonio Symphony Orchestra to celebrate their 25th anniversary in 1964. The work captures the excitement and color of San Antonio's Mexican heritage. The modal characteristics, rhythms, and finely woven melodies depict what Williams called "the pageantry of Latin-American celebration – street bands, bull fights, bright costumes, the colorful legacy of a proud people." The introduction features a brass fanfare that generates a dark, yet majestic atmosphere that is filled with the tension of the upcoming events. The soft tolling of bells herald an approaching festival with syncopated dance rhythms. Solo trumpet phrases and light flirtatious woodwind parts provide a side interest as the festival grows in force as it approaches the arena. The brass herald the arrival of the matador to the bullring and the ultimate, solemn moment of truth. The finale provides a joyous climax to the festivities.
---
2016
Festive Overture, Op. 96
Dmitri Shostakovich (1906-1975)
Gina Lenox, Conductor
Shepherd's Hey
Percy Grainger (1882-1961)
Dr. Jack Schmidt, Associate Conductor
Fantasie, Theme, and Variation on Carnival of Venice
Jean-Baptiste Arban (1825-1889)
Arranged by Erik Leidzen (1894-1962)
Dr. Matthew Brunner, Guest Conductor
Phil Marion, Euphonium Soloist
Morning Star David Maslanka (b.1943)
Dr. Matthew Brunner, Guest Conductor
Canzona Peter Mennin (1923-1983)
Dr. Jack Schmidt, Associate Conductor
Five Variants of Dives and Lazarus
Ralph Vaughan Williams (1872-1958)
Dr. Jack Schmidt, Associate Conductor
Armenian Dances, Part I
Alfred Reed (1921-2005)
Dr. Matthew Brunner, Guest Conductor
Festive Overture, Op. 96 (1954)
Shostakovich composed his Festive Overture for a concert on November 7, 1954 commemorating the 37th anniversary of the Russian Revolution, but its jubilant nature suggests it may also have been conceived as an outpouring of relief at the death of Joseph Stalin one year earlier. As its title suggests, the Festive Overture is a brilliant affair, full of fanfare and bursting spirits. It begins with a stentorian proclamation from the brass as preface to the racing main theme. Contrast is provided by a broad melody initiated by the horns, but the breathless celebration of the music continues to the end.
Shepherd's Hey (1918/1948)
Percy Grainger's first setting of the British folk song, Shepherd's Hey was composed for chamber ensemble. The work was subsequently transcribed and published for wind band in 1918, one of Grainger's first contributions to the band repertory. The air on which the work is based, was collected by Cecil J. Sharpe, the great authority on British folk music. In some agricultural districts in England teams of "Morris Men," decked out with jingling bells and other finery, can still be seen dancing to such traditional tunes as "Shepherd's Hey," which are played on the fiddle or on the "pipe and tabor" (a sort of fife and drum).
Fantasie, Theme and Variation on "Carnival of Venice" (1959/1989) More than 150 years ago, French cornetist and teacher Jean Baptiste Arban created the method book, which became the standard manual for brass players all over the world. His playing of and compositions for the cornet helped to establish it as a serious classical instrument. He wrote this set of variations in the early 1860s, undoubtedly inspired by Niccolo Paganini's 20 variations for violin on the same air, which has been attributed both to Paganini and to German opera composer Reinhard Keiser. Tonight's performance will feature Euphoniumist Phillip Marion.
Morning Star (1997) was commissioned by the Grand Ledge, Michigan High School Wind Symphony, Michael Kaufman, conductor. It was written for the dedication of the new concert hall at Grand Ledge High. David Maslanka writes this about his piece:
Morning Star was a surprise to me. In planning the piece, I came up with a great many ideas – enough for three or four pieces. When it came time to compose, I suddenly discarded all of that material and took up a little tune that came to mind. The result is a happy piece, a concept which does not usually attach itself to my music. Morning Star is about beginnings: the dawning of a new day, the opening of a new hall, the beginning of adult like for young people who premiered the pieces, and for those who are playing it now.
Canzona (1954)
Peter Mennin composed his Canzona in 1951 as part of the continuing series of commissions from Edwin Franko Goldman in cooperation with the League of Composers: it was premiered by the Goldman Band. The piece draws on the early Baroque canzona, so brilliantly exploited by Gabrieli (1555-1612) at St. Marks Cathedral in Venice that displayed contrasting wind and string sonorities together with rhythmic-polyphonic virtuosity. Using reeds and brasses of the band in alternate tonal blocks, Mennin has created a stunning essay of the same type in the 20th century manner.
Five Variants of "Dives and Lazarus"(1923/1939)
Ralph Vaughan Williams had a special affection for the folk melody "Dives and Lazarus," and he drew upon this work for several of his compositions including the Te Deum and English Folk Song Suite. Rather than quoting the tune exactly, Vaughan Williams considered these variants "reminiscences of various versions in my own collection and those of others." Only the initial statement of the melody and the final variant contain straightforward versions of the original folk tune. The remaining four variants consist of rather unconventional re-workings of the melody. The work was originally composed for string orchestra. We perform it this evening in an arrangement for band by Stephen Gregson.
Armenian Dances, Part I (1972) is part of a four-movement suite for concert band based on authentic Armenian folk songs from the collected works of Gomidas Vartabed (1869-1935), a brilliant composer-musicologist who founded Armenian classical music. Part I, is an extended symphonic rhapsody built upon five different songs, freely treated and developed in terms of the modern, integrated wind ensemble.
Armenian Dances, Part I was premiered by Harry Begain (to whom the work is dedicated) and the University of Illinois Symphonic Band at the CBDNA Convention in Urbana, Illinois, on January 10, 1973.
---
2015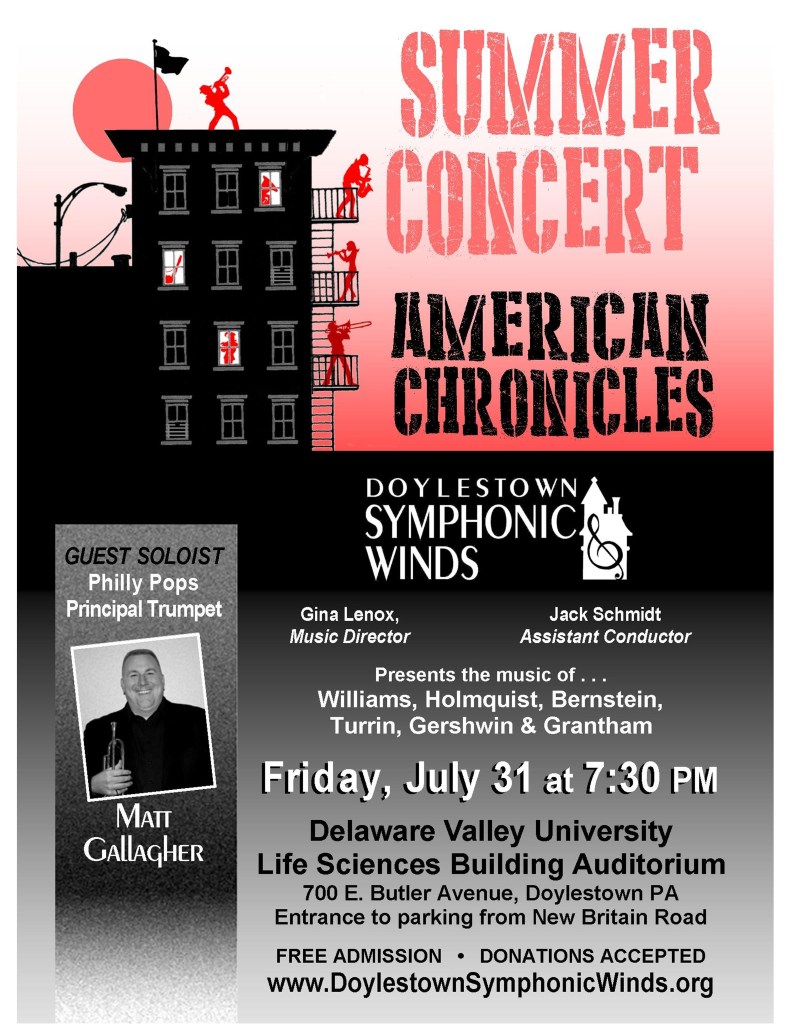 ---
2014